I live in High Springs, FL. It's a small town with a population of just over 5000. Even though it's a pretty small place, it's a fairly active small town with popular restaurants, a local theater, an operational restored historical movie theater, antique stores, bakeries, and tons of outdoor activities revolving around the local rivers and springs. While many other small, north Florida towns of comparable size are indeed desolate, High Springs, in general, is not. However, the one bit of desolation which High Springs does indeed have is its abandoned railroads.
High Springs was once a fairly active railroad destination, with both a passenger and a freight railway station and a roundhouse, serving lines that ran north to south from Dupont, GA to Alachua, FL and east to west connecting High Springs to Newberry, FL and beyond. The line from Dupont to Alachua has been abandoned for many years, with the exception of a little strip here in High Springs which connected the Lamson and Sessions Prime Conduit plant just south of town along the north-south line to the connection just north of town with the east-west train line. As of 2010, the line was still active, but in desperate need of repair. A cost/benefit analysis was conducted to determine whether the line should be repaired or abandoned, and by the following year the decision to abandon had been made.
When I moved to High Springs in July 2014, the tracks were still present for the Prime Conduit to Newberry stretch of the lines, even though the rail crossings in downtown High Springs had recently been removed and the rails north of the switch had been gone for many years. In January 2015, the process of removing the rails entirely began. As of today, very little of the railroad remains in High Springs, aside from the train station buildings and the now empty railroad beds.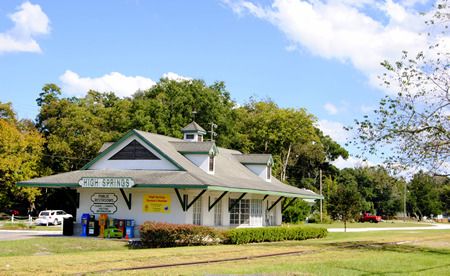 I took this photo in October 2014. You can still see the tracks running past the High Springs Welcome Center located in a faux-trainstation building just south of downtown.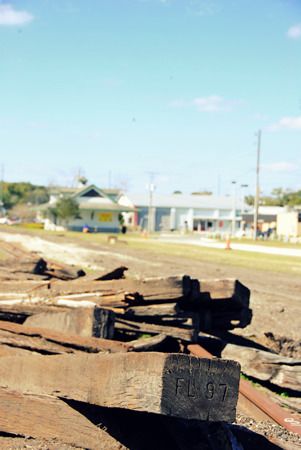 I took this on February 1, 2015, when the rails and ties had been pulled up, but hadn't yet been removed.
As I have a bit of an obsession with desolation in general and abandoned railroads in particular, I decided to explore as many of the abandoned railway lines in the area as possible. It's a little ridiculous that two such lines exist within a few minutes' walk of my house and yet I only just started exploring them last weekend… but what can I say? I'm a busy woman. Last weekend JOM of Gravel Cyclist and I scouted the east-west line from Poe Springs Road to the switch at the connection with the north-south line, and then followed the north-south line north of town to the Santa Fe River: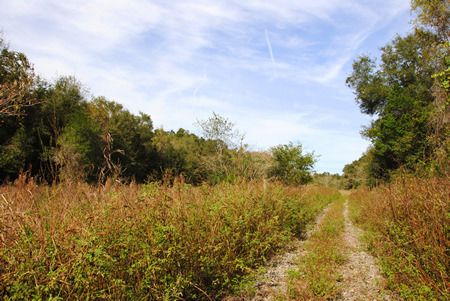 The east-west line, midway between Poe Springs Rd and the switch
The east-west line begins curving to meet the switch with the north-south line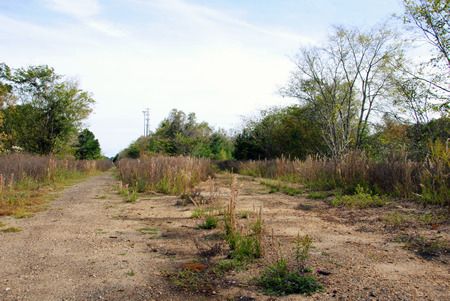 This is where the two lines once met.
The following two shots of the switch were taken at the same location in 2008 by flickr user badge1955: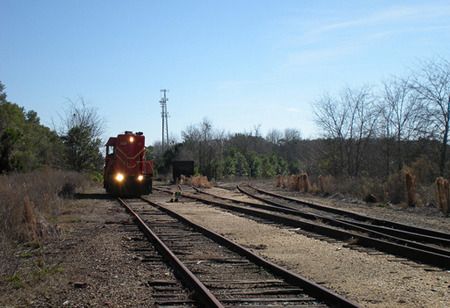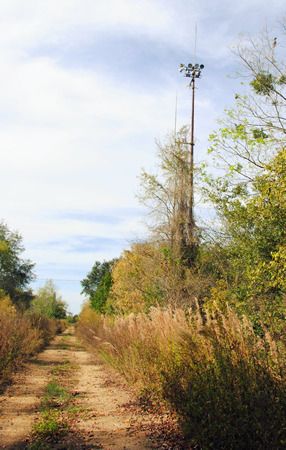 Just north of the switch, we spotted a tower.
Here's badge155's comparable shot from 2008:
As we approached the tower, we noticed a small building in the weeds and decided to check it out.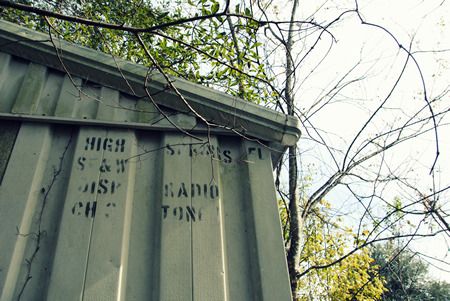 It had been a dispatch radio signal station.
Now it's just an empty building.
Just north of the switch and the remains of the dispatch signal station, one reaches the area where the tracks have been gone for far longer. This stretch of former rail bed has been a "road" of sorts for some time, paralleling Hwy 27 north of High Springs. It's named NW 270th Ter, and it's not exactly a highly traveled stretch of roadway. It made for a great walk on a lovely Sunday afternoon though :-)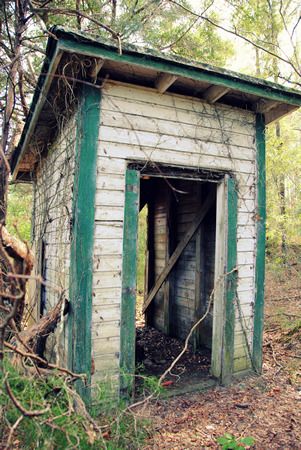 As we neared the northern end of NW 270th Ter, we did discover this little gem off to the side. From a distance I thought it looked like an outhouse. Up close... well, as far as we could tell, it had indeed been an outhouse. While there were no fixtures remaining, there were definitely pipes in the proper places for a sink and a toilet. There were no signs of who this outhouse might have served, however, as there were no houses or remains thereof anywhere close. A pitstop for train engineers perhaps?
NW 270th Ter dead-ends at the Santa Fe River. Not much remains of the old railroad bridge, other than a few large pilings: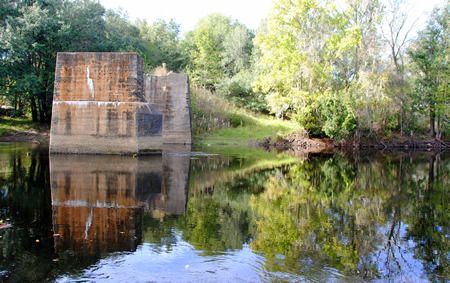 Once you cross the Santa Fe River into Columbia county, the railroad bed becomes wild and impassable.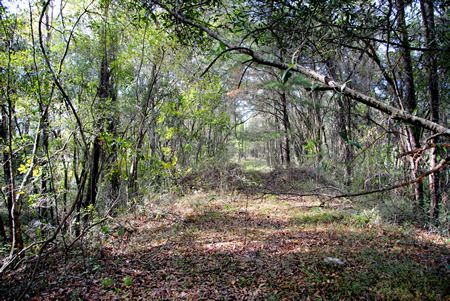 I still plan to explore the north-south line south of town, as well as the east-west line west of Poe Springs Rd, so please check back! Meanwhile, if you're into train imagery, I recommend checking out the flickr page of badge1955, where there are a ton of excellent train photos from all over.